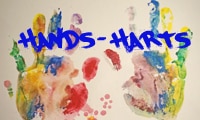 Joan Germany grew up in New Milford, New Jersey with her deaf family. In her early years, she was influenced by her "grandma" and was always interested in things artistic and creative. Recognizing her creativity, her dad expected her to become an artist one day.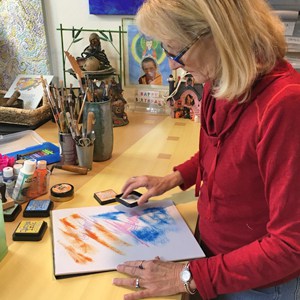 She moved to Oakland, California, married and raised a family. Early on Joan had a gift for designing clothes for her young children and had some success in selling her children's clothing line in some local children's stores. While doing all this Joan studied for her Bachelor of Arts in socio-anthropology at Cal-State University Hayward. Joan continued to make wooden and fabric creations and dolls for family and friends and sold them in small retail shops. Always looking to enhance her education, Joan returned to her studies to pursue a Master's Degree in Art Consciousness and Expressive Arts Therapy at John F. Kennedy University. During this period Joan was a teacher's aide for Deaf children at mainstream schools and assisted both children and adults to express themselves through art. This led to a job as an "art facilitator" for the elderly, both Deaf and hearing at an Assisted Living Home where she enjoyed participating in their joy and found herself wanting to do more with "healing art."
After that program ended, Joan was hired by an agency in Oakland, California to work with Deaf and Hard of Hearing children from pre-school to High School at mainstream schools. Through the success of the program, these children embraced their emotions through art. Following this, Joan was asked to be a Youth at Risk-Teen parent educator for a Catholic Agency with Deaf High School students. Joan's unique approach to education for the Deaf incorporated a variety of art activities including a play in which the students wrote a creative version of a favorite nursery story.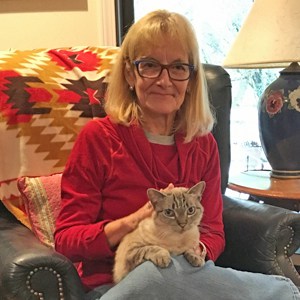 While working for the Catholic Agency, Joan began to teach ASL, American Sign Language, at two community colleges where she has been teaching for over 18 years. Joan's passion for the healing power of art has not waned.
So after a long hiatus from art, Joan has returned to her love of the healing power of art and hopes that the Deaf, Hard of Hearing, and all others will enjoy a wonderful journey with her in these online classes.